This past weekend Will, Sam and I went on a road trip with my mom and sisters to Kentucky to see my dad graduate from a men's ministry he has been at. We had such a good time! The boys did really great on the ride up and back. Especially considering it took close to 10 hours! We drove down Wednesday, spent the whole day there on Thursday and drove back all day Friday.
God really blessed us with the most beautiful day on Thursday. We spent the morning having my dad show us around the "ranch" that he had been staying at. We took a hike through the woods and walked the rolling hills.
Will woke up Thursday with a sore neck from sleeping on it wrong. It was the saddest thing ever seeing him walk around with his hand on his neck. Poor guy.
Sam was so tired he fell asleep while being jostled along the paths.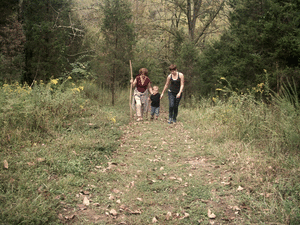 Hanging out on the balcony porch after dinner and being goofy!